Mallorca Flyboard Experience
Europe » Spain » Balearic Islands » Mallorca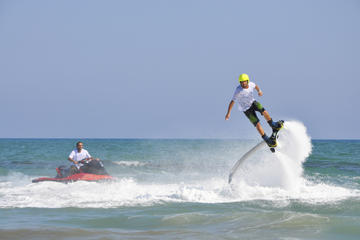 (5.0)
Duration: 2 hours
Departs: Mallorca, Spain
Price from USD 76.98
Book Now
Channel your inner superhero with a 2-hour flyboard experience in Mallorca. Try your hand at the cool water sports craze, where water-jets power you above the sea in a serious adrenaline rush. Get directions from an expert instructor, then ride a boat out from shore and enjoy a 15-minute flyboarding flight. Thrill as you blast yourself into the air, make turns and hover over the water. Then, watch others in your group have a go as you enjoy the onboard music and soda. Receive personalized attention on this small-group tour limited to eight people.
Make your own way to the flyboard center at Puerto Portals marina and meet your expert instructor.
Then, get a full introduction to this ultra-cool and thrilling water sport. Learn all about the easy-to-use flyboard and how to strap your feet on, propel it through the water, make turns and blast high in the air. Riding a flyboard is safe and relatively easy to learn, so with a little balance and co-ordination, you should find it simple.
After a safety briefing, hop aboard a boat with the rest of your group and cruise a short way from shore. Then, it's time for for everyone to take turns and feel the thrill of this extraordinary sport.
When it's your turn, strap your feet on the flyboard and away you go. Your instructor will give you final directions and be on hand through your approximate 15-minute session.
Feel your adrenaline rush as the water jet thrusts you three to six feet (one-two meters) into the air above the sea, and if you wish, signal to your instructor that you want to go even higher. Zip around, practice steering, learn how to control your elevation, make turns and hover above the Mediterranean Sea — it's a serious buzz. A photographer will snap pictures of your 'flight' and they'll be available via email after your experience, so you can relive it again and again.
When you're not flyboarding, watch as the others in your group have a go and enjoy the onboard music and complimentary soda or water.
Your experience ends when you arrive back at the marina.
« All Activities